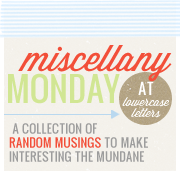 We were supposed to be in Atlanta today - visiting my sister and her kids, but yesterday Emma got a fever. We have been battling this virus for going on three weeks now. Thankfully she is feeling better today. I'm hoping that this is the last of our sickness for the season.
I've finally jumped on the Twitter band-wagon. I've connected with several other bloggers who also tweet and it's been so much fun. I usually just check Twitter in the afternoon while I'm waiting in car pool - but during the weekends I'm checking Twitter pretty often. So much fun. Of course it's all about having friends who tweet.
Pregnancy Update: 19 weeks. This was my first weekend in maternity jeans!! I bought some online from Old Navy and am really really happy with them. They are so much more comfortable than my regular jeans held together with a rubber band. The last two weeks this baby has grown a
lot
. I've gone from just barely showing at all to having a nice little bump. I've also started having braxton hicks pretty regularly, usually just at night and usually not too painful.
Favorite food this week: stuffed French toast with cream cheese, strawberries, bananas and a little sprinkle of pecans and drizzle of maple syrup. SO yummy!!
Favorite song this week: "This is the Stuff" Francesca Battistelli The first few times I heard this song I thought it was so shallow and annoying - I mean, come on - she's talking about loosing her keys and and running late - in the grand scheme of things those are so unimportant! But as I've gone through this week with the chorus stuck in my brain and the words "In the middle of my little mess, I forget how big I'm blessed" I find it rings true. It is little frustrations and irritations that cause me to loose sight of how blessed I am!
I was inspired by
My Reflection of Something
to post my menu for the week and link-up with Menu Plan Monday so here goes:
Monday: Sub Sandwiches
I buy a double loaf of French or Italian bread from the bakery at my grocery store (for $1.99) and they are just as good as eating out except that I can feed my entire family for the price of two!
Tuesday: Burritos
with chicken, lots of veggies and some mexican flavored rice-a-roni. I was inspired by Moes to start adding rice to our burritos. SO yummy!
Wednesday: Chef Salads
the kids get all of their individual ingredients cut into bigger slices to dip into salad dressing if they want. It works really well for our family and I get a yummy salad!
Thursday: Pasta with Sausage
I was seriously craving pasta when I made my menu. I'll toss together penne pasta, some Butterball brand Turkey Sausage, some sliced bell peppers and sliced zucchini with some Kraft roasted red bell pepper salad dressing. It's SO quick and tasty!
Friday: Spaghetti
Saturday: Manwiches
I use jumbo hamburger buns and slices of american cheese - awesome, quick comfort food.
Sunday: Egg Salad Sandwiches